Golden Nugget Pleco (L-018)
Available for just £29.00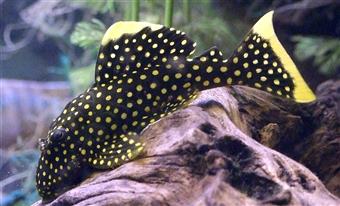 Images used for reference only, actual specimins may differ in size and appearance.
The name "Gold Nugget Pleco" is short for "Gold Nugget Plecostomus." It is a suckermouth catfish which was first captured and exported to Great Britain in 1981.

Due to the abundance of stock available in the catfish category, it has become very difficult to categorize them by species. As a result, you may see a reference to the letter "L" for the family Loricariidae, followed by a number. The Gold Nugget Pleco is referred to as L018 or L-18 by most hobbyists.

The Gold Nugget Pleco is a shy bottom-dweller that appreciates plenty of driftwood in its environment.
Email us about this animal
This animal was last updated over a month ago. Please make sure to contact us before travelling long distances regarding this animal.
Any prices listed are subject to change, all final prices are decided in the shop.