Fire Salamander
Captive bred
Adult
5-6 inch
0 male
0 female
0 non-sexed
This animal is currently unavailable. Please get in touch to register your interest.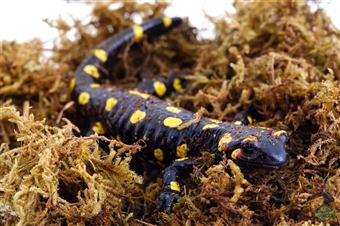 Images used for reference only, actual specimins may differ in size and appearance.
Fire Salamanders generally grow to between 7-10 inches in length, but it is not unknown for them to reach 12 inch in some cases.

It is black with yellow spots or stripes to a varying degree; some specimens can be nearly completely black while on others the yellow is dominant. Shades of red and orange may sometimes appear, either replacing or mixing with the yellow according to subspecies. Fire salamanders can have a very long lifespan; one specimen lived for more than 50 years in Museum Koenig, a German natural history museum.
Email us about this animal
This animal was last updated over a month ago. Please make sure to contact us before travelling long distances regarding this animal.
Any prices listed are subject to change, all final prices are decided in the shop.
Latest Arrivals - Salamander